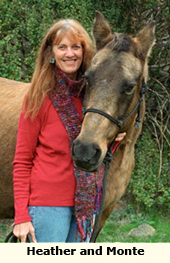 Heather Hafleigh began photographing while in college, getting a degree in art, and has devoted the last 18 years to documenting contemporary ranchers, horsemen and craftsmen in California who are carrying on the Vaquero tradition.
Since 1972 she has exhibited widely, including the Museum of Northern Arizona, Northeastern Nevada Museum, Oakland Airport, Skyharbor International Airport in Phoenix, and the "Trappings of the American West" exhibit in Flagstaff. Her exhibit "Viva La Charreria Mexicana," which documents equestrian skills and fancy roping, has toured many museums in California.
Heather's work is in the permanent collections of the Autry National Center in Los Angeles, Oakland Museum of California, and The Western Folklife Center in Nevada.
Selected magazine publications include Cowboy, Cowboys & Indians, Equus, Range and Shambhala Sun. In 2000, News from Native California published "Indian Vaqueros of California," a fifteen-page article written and photographed by Heather.
Among the books containing Heather's photos are California Cowboy Inventions by Ernie Morris, Spirit (Cowboys, Horses, Earth & Sky) by C.J. Hadley, True Horsemanship Through Feel by Bill Dorrance & Leslie Desmond, and True Unity by Tom Dorrance, (French edition). Her work was also included in the film Tapadero, by J & S Productions.
Heather grew up in Arizona where her dad, a fine horseman and polo player, put her on a horse at age four. She has continued to ride all her life, including photographing from horseback in Scotland, Kenya and Argentina. She now has a little Buckskin quarter horse named Monte.